Man Made Global Warming Part 1
QUOTE OF THE WEEK

"It's like we're scurrying to get something done, like something's going to happen to discredit the whole global-warming thing,"

Rep. Ed Orcutt, R-Kalama.

"Some of us are wondering if we have created a monster."

KevinVranes, climate scientist, University of Colorado talking about global warming hysteria, January, 2007.
===================================================================
MAN MADE GLOBAL WARMING PART 1

One of the most overlooked aspects of climate change is land use changes. In my last blog I talked about rain forests and how their destruction adversely affected our climate. Deforestation is just one aspect of land use change that contributes to climate change, there are many more that also have an under-appreciated influence on climate. With all the miss-guided focus on CO2 as the big boogey man, many other man made influences are ignored or given far too little attention. Probably the most well known of all land use changes on global warming is the Urban Heat Island, (UHI).

UHI is relatively easy for anyone to understand and grasp. When you build a town, city or metropolis on land, which once were prairie, swamp, forest or some other natural landscape, it is bound to change the local and surrounding environment including the climate. Mostly we see it as temperature changes, obviously pavement and buildings not to mention car and industrial exhaust are going to generate more heat than grassland, trees and antelope. The EPA explains it very simply

>Heat islands form as vegetation is replaced by asphalt and concrete for roads, buildings, and other structures necessary to accommodate growing populations. These surfaces absorb - rather than reflect - the sun's heat, causing surface temperatures and overall ambient temperatures to rise.

There are other affects of the UHI, studies have shown that monthly rainfall is about 28% greater between 20-40 miles downwind of cities, compared with upwind. (Fuchs, Dale 2005)

Although much debated the IPCC states that the UHI actually has a minuscule affect on global temperatures. They say the overall affect of the UHI on global temperatures since 1900 has been .002 degC per decade (Fourth Assessment Report of IPCC 2007: p.244). As I said this is debated the paper, "Should light wind and windy nights have the same temperature trends at individual levels even if the boundary layer averaged heat content change is the same?" as an example.

Regardless it is probable that the UHI has no overall significant impact on global temperatures, remembering that oceans which are not known for urbanization account for 70 % of the earths surface area, and urban areas only account for about 1.5% of the entire earth surface.

Having said all that, when you measure global temperatures, where are the thermometers?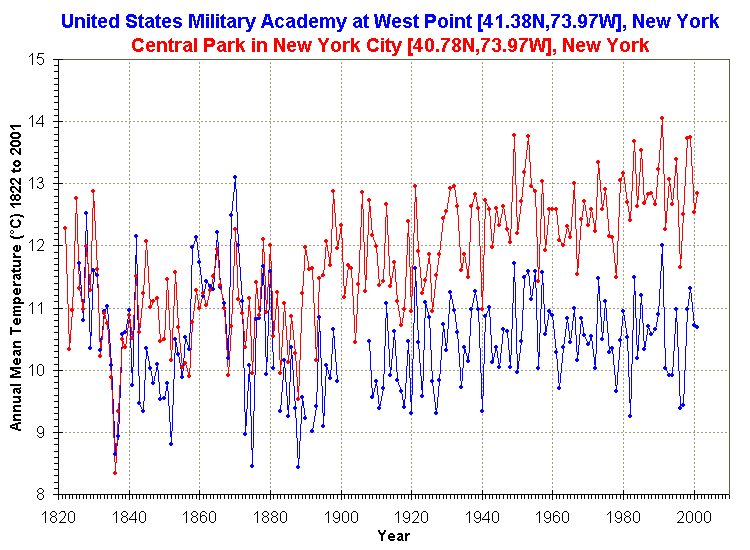 source

The above is a very obvious and easy to see historical representation of the UHI affect on temperature records. Which of these do you believe is a more accurate historical record of temperatures? If you were responsible for determining what the earth's temperature was doing what would you do with the above records?

Much of what my next several blogs are going to be drawn from some excellent web-sites, which I encourage anyone interested to visit. They are Coyote Blog dispatches from a small buisness,-Surface Station.org,-Watts Up With That?,- Climate Audit All of these are excellent sites, very informative and often amusing.

The following is from Coyote Blog



==========================================================================

Let's say you had two compasses to help you find north, but the compasses are reading incorrectly. After some investigation, you find that one of the compasses is located next to a strong magnet, which you have good reason to believe is strongly biasing that compass's readings. In response, would you

1. Average the results of the two compasses and use this mean to guide you, or
2. Ignore the output of the poorly sited compass and rely solely on the other unbiased compass?

Most of us would quite rationally choose #2. However, Steve McIntyre shows us a situation involving two temperature stations in the USHCN network in which government researchers apparently have gone with solution #1. Here is the situation:

He compares the USHCN station at the Grand Canyon (which appears to be a good rural setting) with the Tucson USHCN station I documented here, located in a parking lot in the center of a rapidly growing million person city. Unsurprisingly, the Tucson data shows lots of warming and the Grand Canyon data shows none. So how might you correct Tucson and the Grand Canyon data, assuming they should be seeing about the same amount of warming? Would you average them, effectively adjusting the two temperature readings towards each other, or would you assume the Grand Canyon data is cleaner with fewer biases and adjust Tucson only? Is there anyone who would not choose the second option, as with the compasses?

The GISS data set, created by the Goddard Center of NASA, takes the USHCN data set and somehow uses nearby stations to correct for anomalous stations. I say somehow, because, incredibly, these government scientists, whose research is funded by taxpayers and is being used to make major policy decisions, refuse to release their algorithms or methodology details publicly. They keep it all secret! Their adjustments are a big black box that none of us are allowed to look into (and remember, these adjustments account for the vast majority of reported warming in the last century).

We can, however, reverse engineer some of these adjustments, and McIntyre does. What he finds is that the GISS appears to be averaging the good and bad compass, rather than throwing out or adjusting only the biased reading. You can see this below. First, here are the USHCN data for these two stations with only the Time of Observation adjustment made (more on what these adjustments are in this article).





As I said above, no real surprise - little warming out in undeveloped nature, lots of warming in a large and rapidly growing modern city. Now, here is the same data after the GISS has adjusted it:




You can see that Tucson has been adjusted down a degree or two, but Grand Canyon has been adjusted up a degree or two (with the earlier mid-century spike adjusted down). OK, so it makes sense that Tucson has been adjusted down, though there is a very good argument to be made that it should be been adjusted down more, say by at least 3 degrees**. But why does the Grand Canyon need to be adjusted up by about a degree and a half? What is biasing it colder by 1.5 degrees, which is a lot? The answer: Nothing. The explanation: Obviously, the GISS is doing some sort of averaging, which is bringing the Grand Canyon and Tucson from each end closer to a mean.

This is clearly wrong, like averaging the two compasses. You don't average a measurement known to be of good quality with one known to be biased. The Grand Canyon should be held about the same, and Tucson adjusted down even more toward it, or else thrown out. Lets look at two cases. In one, we will use the GISS approach to combine these two stations-- this adds 1.5 degrees to GC and subtracts 1.5 degrees from Tucson. In the second, we will take an approach that applies all the adjustment to just the biases (Tucson station) -- this would add 0 degrees to GC and subtract 3 degrees from Tucson. The first approach, used by the GISS, results in a mean warming in these two stations that is 1.5 degrees higher than the more logical second approach. No wonder the GISS produces the highest historical global warming estimates of any source!

===============================================================

Perhaps if you have read this and followed it closely, you can see why skeptics are skeptical, lol. If you were also aware of the fact that the scientist, James Hansen, is in charge of GISS is perhaps the world's strongest proponent of the enhanced greenhouse gas theory, it should raise questions. As many of us believe, man made global warming may be more man made than you think.

"Humanity today, collectively, must face the uncomfortable fact that industrial civilization itself has become the principal driver of global climate. If we stay our present course, using fossil fuels to feed a growing appetite for energy-intensive life styles, we will soon leave the climate of the Holocene, the world of human history. The eventual response to doubling pre-industrial atmospheric CO2 likely would be a nearly ice-free planet.

The stakes, for all life on the planet, surpass those of any previous crisis. The greatest danger is continued ignorance and denial, which could make tragic consequences unavoidable."

The Reverend...Uh, I mean Dr. James Hansen

Meanwhile in reality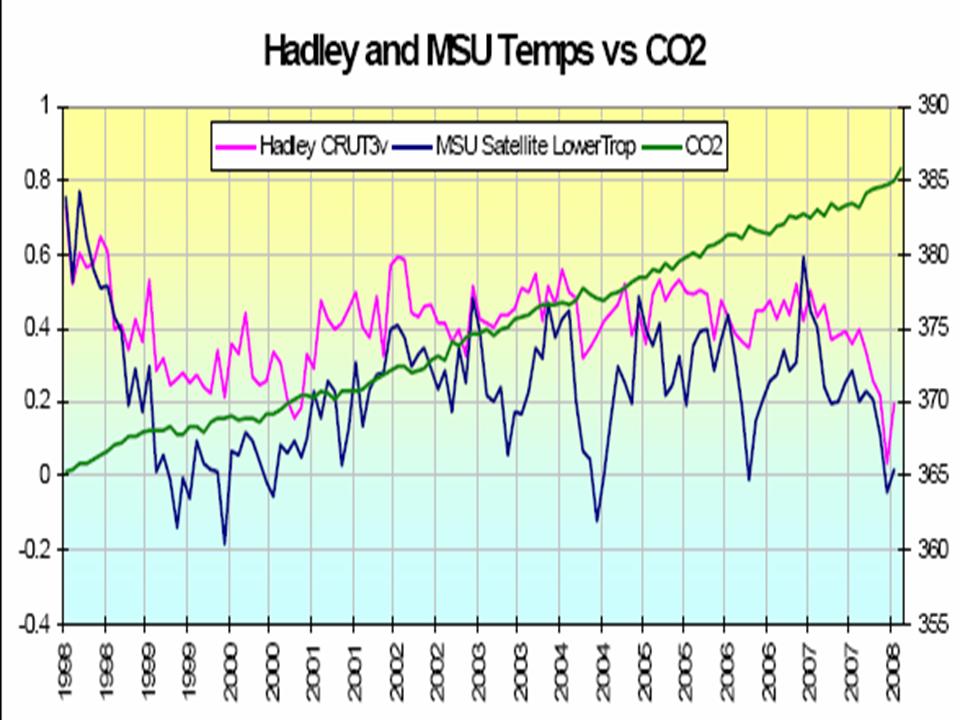 Recently someone commented on the above graph saying that it started at an obvious outlier year of 1998. True so for your viewing pleasure I'll also post these.




and the longer view



===============================================================

"The science of AGW can withstand challenges if it's accurate, and if it's not, it needs to be challenged."

Brett Anderson
Senior Meteorologist AccuWeather

( The Flat Earth Society)

01 Reid Bryson - Called the father of modern scientific climatology - Global Warming? Some common sense thoughts
02 Freeman J Dyson-professor emeritus of physics at the Institute for Advanced Study in Princeton. -Freeman Dyson on Global Warming Part 1 of 2 - Freeman Dyson on Global Warming Part 2 of 2 -The Science and Politics of Climate-HERETICAL THOUGHTS ABOUT SCIENCE AND SOCIETY
03 Jan Veizer-Distinguished University Professor Department of Earth Sciences, University of Ottawa Esteemed Ottawa scientist says cosmic rays, not greenhouse gases, cause global warming
04 Syun-Ichi Akasofu - Founding Director International Arctic Research Center - Misleading Information on Global Warming -A Clash between the View of Physicists and of Naturalists
05 Hans Erren- International Institute for Aerospace Survey and Earth Sciences, Division of Exploration Geophysics, Delft.
06 Neil Frank - Former Director NHC
07 David H Douglass-Professor of Physics,University of Rochester- A comparison of tropical temperature trends with model predictions
08 Gordon Swaters
09 John Christy - Professor and Director Earth System Science Center, NSSTC-
University of Alabama in Huntsville- My Nobel Moment
10 Peter Stilbs-Professor Physical Chemistry at KTH -Global Warming - Scientific Controversies in Climate Variability
11James Spann
12 Claude Allegre - French Minister of National Education, Research and Technology
13 Chris de Freitas -Associate Professor, Deputy Director of School,Environmental climatology,The University of Auckland-Are observed changes in the concentration of carbon dioxide in the atmosphere really dangerous?
14 Christopher Landsea - Hurricane Research Division Atlantic Oceanographic & Meteorological Laboratory
NOAA-Letter of resignation from IPCC
15 Robert Geigenngack-Professor Department of Earth and Environmental Science University of Pennsylvania- Al Gore Is a Greenhouse Gasbag
16 William Cotton -Professor The Department of Atmospheric Science CSU -Global Climate Change: A Skeptics Perspective
17 James O'Brien- Former Director, Center for Ocean-Atmospheric Prediction Studies at Florida State University -Atlantic Hurricanes: The True Story-Skeptics Speak Out Video
18 Simon Brassell
19 Danial Botkin -Professor Emeritus, Department of Ecology, Evolution, and Marine Biology, University of California, Santa Barbara. Science and soothsaying
20 Petr Chylek- Senior Scientist , Space and Remote Sensing Sciences, Los Alamos National Laboratory and Department of Physics and Atmospheric Sciences, Dalhousie University -Limits on climate sensitivity derived from recent satellite and surface observations - Greenland warming of 1920-1930 and 1995-2005
21 Antonio Zichichi- President of the World Federation of Scientists
22 Henrik Svensmark- director of the Centre for Sun-Climate Research, at the Danish Space Research Institute-Influence of Cosmic Rays on Earth's Climate
23 Richard S. Lindzen'- MIT Alfred P. Sloan Professor of Meteorology, Department of Earth, Atmospheric and Planetary Sciences - Is There a Basis for Global Warming Alarm? -The Fluid Envelope-A CASE AGAINST CLIMATE ALARMISM -Climate of Fear
24 Anthony Lupo - Associate Professor of Atmospheric Science the University of Missouri Columbia. -Global Warming Is Natural, Not Man-Made-Hot Air
25 Marcel Leroux- Professor of Climatology at Jean Moulin University in France, and the director of the Laboratory of Climatology, Risk, and Environment.-There's No Global Warming, Because There's No Global Climate
26 George Kukla- EGU Milutin Milankovic Medallist 2003
27 Edward J Wegman-Professor at the Center for Computational Statistics at George Mason University -Congressional Testimony on "Hockey Stick"
28 Boris Winterhalter -Retired Senior Research Scientist and Coordinator at the Geological Survey of Finland.-My views on Global Warming and especially on the man-made hype
29 Christoph Borel-Senior Technical Manager, Ball Aerospace
30G. Cornelis van Kooten-Professor of Economics and Canada Research Chair in Environmental Studies & Climate, University of Victoria
31 Gerhard Kramm- Professor University of Alaska Fairbanks, College of Natural Science and Mathematics-Global warming and Fairbanks' power solution
32 Rafael Wust -Professor Marine Geology/Sedimentology, James Cook University
33 Robert M. Carter- Research Professor at James Cook University- Climate Change - Is CO2 the cause? - Pt 1 of 4 -Part 2 of 4- Part 3 of 4- Part 4 of 4
34 George Taylor -State of Oregon Climatologist- A Consensus About Consensus
35 Patrick J. Michaels-Past president of the American Association of State Climatologists and former program chair for the Committee on Applied Climatology of the American Meteorological Society-Not So Hot
36 Geoff Austin -Professor The Department of Physics The University of Auckland New Zealand
37 Sonja Boehmer-Christiansen- Research Professor at James Cook University
38 Joseph D'Aleo-former Professor of Meteorology at Lyndon State College and the first Director of Meteorology at The Weather Channel-Warmest Year Declaration Full of Pitfalls!-Skeptics Speak Out Video
39 Nir Shaviv-Carbon Dioxide or Solar Forcing?-The inconvenient truth about the Ice core Carbon Dioxide Temperature Correlations
40 William Gray-Professor Emeritus CSU Department of Atmospheric Science - Hurricanes and Climate Change
41 S. Fred Singer-Distinguished Research Professor at George Mason University and professor emeritus of environmental science at the University of Virginia- Testimony before the Senate Committee on Commerce, Science, and Transportation - Nature, Not Human Activity, Rules the Climate
42 Roy Spencer-received the NASA Exceptional Scientific Achievement Medal in 1991, the MSFC Center Director's Commendation in 1989, and the American Meteorological Society's Special Award in 1996.- NOT THAT SIMPLE GLOBAL WARMING: WHAT WE DON'T KNOW- Cloud and radiation budget changes associated with tropical intraseasonal oscillations-The Sloppy Science of Global Warming-interview
43 Mike McConnell -Forest Hydrologist, U.S. Forest Service - Open Letter to Dr. Robert Davila and Gallaudet Community
44 Indur M. Goklany- US Department of the Interior
45 Ian D. Clark -Department of Earth Sciences, University of Ottawa
46 Oliver W. Fraunfeld- CIRES-Contributing Author to the IPCC Working Group 1 Fourth Assessment Report.
47 Robert E Davis- Professor Atmospheric Sciences University of Virginia- Climate Cycle or Climate Psychic?
48 R. Timothy Patterson -Director of the Ottawa-Carleton Geoscience Centre - Read the Sunspots- The Geologic Record and Climate Change
49 David R. Legates -Director of the Center for Climatic Research at the University of Delaware. State Climatologist for Deleware -Where's the Data?-Revising 1,000 Years of Climate History
50 Eric Posmentier - Professor Earth Sciences Dartmouth University
51Ben Herman - Professor University of Arizona's Department of Atmospheric Physics
52 Robert C. Balling Jr.-Professor of Climatology, Arizona State University - Inconvenient Truths Indeed
53 Thomas Schmidlin -Professor of Geography at Kent State University and a Certified Consulting Meteorologist.
54 Willem de Lange - Professor Department of Earth & Ocean Sciences, University of Waikato
55 Don J. Easterbrook -Professor Emeritus Department of Geology Western Washington University -Global warming: Are we heading for global catastrophy in the coming century?
56 Stewart Franks -Associate Professor in Environmental Engineering,The University of Newcastle
57 Robert L. Kovach - Professor Emeritus of Geophysics, Stanford University
58 Fred Michel -Director, Institute of Environmental Science Associate Professor of Earth Sciences, Carleton University- Letter to the editor of the Toronto Star
59 Robert H. Essenhigh - Bailey Professor, Mechanical Engineering, The Ohio State University- Does CO2 really drive global warming?
60 Philip Lloyd - UN IPCC co-coordinating lead author on the Technical Report on Carbon Capture & Storage
61 Charles Wax -Professor of Geography Mississippi State University and State Climatologist for Mississippi
62 Nils-Axel Mörner - Retired head of the Paleogeophysics and Geodynamics department at Stockholm University-Claim That Sea Level Is Rising Is a Total Fraud
63 Salomon Kroonenberg - Full Professor of Geology at the Department of Geotechnology, Delft University of Technology
64 Willie Soon-Physicist at the Solar, Stellar, and Planetary Sciences Division of the Harvard-Smithsonian Center for Astrophysics -What is the Earth's 20th Century Temperature Trend?
65 Jay H. Lehr -Science Director with the Heartland Institute and President of Environmental Education Enterprises
66 Arthur V. Douglass Retired Chair of the Atmospheric Sciences Department Creighton University
67 Garth Paltridge-Emeritus Professor, former Director of the Institute of Antarctic and Southern
Ocean Studies, and CEO of the Antarctic Co-operative Research Center- The Politicised Science of Climate Change
68 Lee C.Gerhard-Senior Scientist Emeritus, Kansas Geological Survey, University of Kansas-Geologic Constraints on Global Climate Variability
69 Ole Humlum-Professor of Physical Geography at the Institute of Geosciences, University of Oslo, Climate 4 You web site (excellent)
70 Olavi Kärner Research Scientist atmospheric science, Tartu Observatory, Estonia- TEMPORAL VARIABILITY IN LOCAL AIR TEMPERATURE SERIES SHOWS NEGATIVE FEEDBACK
71 Gerald E Marsh- retired physicist, Argonne National Laboratory,-Climate Change: The Sun's Role
72 Frederick Wolf -Professor of Physics, KEENE STATE COLLEGE
73 Tom Victor Segalstad-Associate Professor of Resource- and Environmental Geology at the University of Oslo.-CO2 and the "Greenhouse Effect" Doom
74 Bjarne Andresen-Professor of Physics Ørsted Laboratory, University of Copenhagen-Global temperature -- politics or science?
75 John T. Everett.-Former Director of NOAA Fisheries Division of Research, Member National Academy of Sciences Panel on Ecosystem Indicators of Climate Change, IPCC lead author and reviewer- Congressional Testimony, April 2007
76 Chris Walcek-Atmospheric scientist and Professor, University of Albany (N.Y.); Senior Research Associate at the Atmospheric Sciences Research Center-Chris Walcek Interview
77 James P. Koermer -Atmospheric scientist and Professor of Meteorology and the director of the Meteorological Institute at Plymouth State University
78 Jos de Latt- Specialist in atmospheric composition and climate research at the Royal Netherlands Meteorological Institute-Mixing Politics and Science in Testing the Hypothesis That Greenhouse Warming is Causing a Global Increase in Hurricane Intensity,
79 William Kininmonth - former Head National Climate Centre, Australian Bureau of Meteorology; former Australian delegate to World Meteorological Organization Commission for Climatology, Scientific and Technical Review - Don't be Gored into going along
80 Yuri A. Izrael - Vice-chairman of the Intergovernmental Panel on Climate Change, Former first vice-president of the World Meteorological Organization,-UNEP Sasakawa Prize
81 Frederick Seitz- Former president of the National Academy of Sciences and former president of Rockefeller University. (died 3-02-08)
82 R. W. Gauldie- Research Professor, Hawaii Institute of Geophysics and Planetology, School of Ocean Earth Sciences and Technology, University of Hawaii at Manoa
83 Ryan N. Maue-Researcher Department of Meteorology, Center for Ocean-Atmosphere Prediction Studies Florida State University- Inconvenient 2007 Tropical News
84 Richard S. Courtney- Professor Geography Kutztown University of Pennsylvania-Biofuels: a solution worse than the
problem they try to address?
85 Denis G. Rancourt- Full Professor Department of Physics. Member of the Ottawa-Carleton Institute for Physics, Member of the Ottawa-Carleton Geoscience Centre
86 Ian Pilmer-Professor of Mining Geology Earth and Environmental Sciences, The University of Adelaide -Global warming a damp squib
87 Brian Pratt -Professor Sedimentology, Paleontology-Geology University of Saskatchewan
88 Nicola Scafetta-Research Scientist, Department of Physics, Duke University-Is climate sensitive to solar variability?
89 Nathan Paldor- Professor of dynamical meteorology and physical oceanography, Department of Atmospheric Sciences, Institute of Earth Sciences; The Hebrew University of Jerusalem.
90 Antón Uriarte-Professor of climatology of the Basque Country, Spain
91 Mel Goldstein Professor Meteorology Western Connecticut State University, WTNH Hartford CN
92 Howard Hayden- Professor of Physics Emeritus University of Connecticut Skeptics Speak Out
93 Richard C. Wilson, Senior Research Scientist, Columbia University's Center for Climate Systems Research, Principle Investigator ACRIM Science Computing Facility
94 Lance Endersbee-Emeritus Professor former Dean of Engineering and former Pro-Vice Chancellor at Monash University in Melbourne,Australia.-Global climate change has natural causes:
95 Craig James-Chief Meteorologist and the Director of Weather Services, WOOD Grand Rapids Michigan
96 John K. Sutherland-Chief Scientist, Edutech Enterprises- Anthropogenically driven Global Warming (AGW): Some pro and con comments97 James A. Peden- Former Atmospheric Physicist at the Space Research and Coordination Center in Pittsburgh and Extranuclear Laboratories in Blawnox, Pennsylvania- Editorial: The Great Global Warming Hoax?
98 Patrick Moore- Founding Member and former Director of Greenpeace International
99 John Coleman-Founder of Weather Channel,KUSI San Diego CA-Comments on Global Warming
100 K. Russell DePriest, - nuclear engineer at Sandia National Laboratories



The views of the author are his/her own and do not necessarily represent the position of The Weather Company or its parent, IBM.
Reader Comments
Comments will take a few seconds to appear.
SebastianJer
Recent Posts
Local Weather
77 ° F

Despejado
Previous Entries for 2017