Severe Thunderstorm Watch; Middle Atlantic...
"Afternoon Thoughts" (Updated 7/20)
Good afternoon!!! So as usual I am always thinking new ideas up for my Wunderground blogs for improvement. Below you will probably notice the removal of the Wildfire and Forest Fire section. Despite living in a state with a wide variety of forests and mountains, there is little to only isolated areas of forest fires each year in the state. So for more popularity I thought I would add on a section detailing the forecasts for the Chesapeake Bay for the upcoming week. While marine influences usually are only forecast for a few days, I can provide an outlook on what to expect for the upcoming week. The Chesapeake Bay Outlook should have a large interest for readers. This brought me to my next idea, what if I expanded the blog to include parts of the other states in the Middle Atlantic specifically the Northern Middle Atlantic including Maryland and Delaware and perhaps New Jersey. Many readers are already in these states asking for their forecasts especially in winter, and it would allow for a larger audience of readers. It would not take much to convert the blog to include a slightly broader area. But before any major changes occur for a while, I would like some feedback on the idea from current readers. Please post comments with feedback below or shoot me a Wunderground Mail. Anyways enough wild ideas for one day. By the way for those interested in some of my Italy/Greece pictures, I hope to post a few towards the end of the week.

I keep looking a weather maps every morning and it amazes me this Summer in the lack of extreme weather. While this is a good thing in terms of injury/fatality/damage, it is odd how really everything has been quiet. After a blockbuster severe weather season last year from the powerful La Nina to a lacking severe weather season especially when the Vortex 2 storm chasers are trying to gather scientifical data to predict tornadoes, meanwhile they are left lacking any severe weather. So now look at tropics, we are nearing the end of July without a named storm in the Atlantic basin. Will we finish the month without a named storm in the Atlantic? Impossible to say but global forecast models are not predicting any storms in the next seven days. Also a quiet season in the eastern Pacific with only four named storms with a late start also. While El Nino and such can be to blame, the idea of lack in extreme weather is still pretty remarkable. There hasn't been any remarkable floods or even EF-5 tornadoes with only two EF-4 tornadoes. The Summer has been pretty quiet, and there even has been a lack of large heat expansion out side the southwest states. And for us in the east the summer has been anything but typical. The climate information for Harrisburg from KMDT shows only one day above normal for temperatures this month with the rest below normal every day, pretty impressive to say the least. But is Summer making a run at the east coast any time soon? Check out my August outlook below. Have a wonderful day!

"Regional Radar"


(Courtesy of NOAA)

"Regional Satellite"


(Courtesy of Penn State Meteo.)

"Regional Advisories"


(Courtesy of NOAA)

"Forecast Discussion" (Updated 7/20)
A look at the Water Vapor Loop shows an evident trough over the Great Lakes and central US with moisture streaming up the east coast. Temperatures remain below normal across the region with H85s only around 13C across the state. A stratus and cumulus deck will begin to stream across the entire state during the day Monday. PWATs will begin to rise to around 1.3inches across the southeastern part of the state with rising dewpoints into the 60s. Along a stalled frontal boundary will be a weak developing low along the boundary that will move up the coast. A few descrepancies arise thanks to placement of the precipitation with NAM shifting precipitation more to the west and the GFS keeping the highest QPF offshore from Pennsylvania. Despite solutions rain showers will develop in western Pennsylvania with an upper level feature with QPF around .1inch Monday night. Clouds will thicken over the east as the marine layer moves in from offshore. The low pressure off the east coast will move northeast Tuesday and a disturbance will rotate along the trough axis in eastern Ohio and western Pennsylvania. PWATs will rise to near 1.5inches for areas south of I-80. Conditions will decline Tuesday as the stratus deck lowers to MVFR conditions for most locations with ceilings around 1200ft lowering to near 800ft during rain showers. With a marine influence little surface CAPE instability will be able to develop Tuesday preventing widespread thunderstorms. Western Pennsylvania QPF through Tuesday night should be near .25inches and eastern PA QPF near .5inches. Central Pennsylvania may be caught in an area of subsidence, but still rain showers are expected with QPF up to .25inches. Clouds will lower Tuesday night with RH values near 100%. IFR conditions will occur in eastern areas. As the low moves northeast Wednesday dry air will move in for a partly to mostly cloudy day with little if any rainfall. Another disturbance rotates in on Thursday with slightly more humid and warmer conditions. PWATs may rise to near 2inches which is several deviations above normal. H85s will remain near 13C preventing any boundary layer temperature from rising in the upper 80s. Scattered thunderstorms are possible Thursday and Friday in the afternoon. Towards the week several strong vortices of energry may try to rotate in from the Great Lakes, but confidence remains low. The forecast this week remains very difficult in terms of timing and exact precipitation placement.

"Current Surface Map and Weekly History of Jet Stream Position"


(Courtesy of Weather Underground)

"Weekly Forecast" (Updated 7/20)
Tuesday- As the best jet dynamics keep the heaviest rain to the east of Pennsylvania and a wave moves up the trough axis in western Pennsylvania, rain showers will be found across Pennsylvania, but particularily in eastern and western thirds of PA. Central Pennsylvania may be caught in a dry loop for a good portion of the day. Rainfall totals in eastern and western areas should generally be around a quarter of an inch with central Pennsylvania around a tenth of an inch or less. Cloudy conditions will prevail statewide keeping temperatures well below normal by about 10-15degrees with highs in the low to mid 70s statewide. Also low clouds may be common especially be in southeastern areas with ceilings as low as 800ft during rain showers. Towards Tuesday night some light fog may occur in the east in the Allentown to Philadelphia corridor with 2-4mile visibilities. Drier air will move in across the region towards early Wednesday morning behind the coastal low then affecting New England with heavier rainfall. Lows Tuesday night will be in the upper 50s to lower 60s once again a few degrees below normal.

Wednesday- Dry air with an area of subsidence should prevail for a majority of the day with partly to mostly cloudy skies under occasional stratus and cumulus decks. Highs will be much warmer than Tuesday and nearing the 80s in southern areas with mid to upper 70s across the mountains. Winds may also shift during the day from the east-southeast to the southwest causing more humid conditions with rising dewpoints into the upper 60s. A few isolated thunderstorms are possible over the Laurel Highlands and southeast Piedmont with any sea breezes near Philadelphia or orographic lift in the mountains. Wednesday night will feature an increase in clouds ahead of the next disturbance with a few rain showers in the west with rainfall less than a tenth of an inch. Lows Wednesday night will generally be in the 60s statewide right around normal values.

Thursday- Another disturbance moves in over the region with a bit more wider chance of showers and thunderstorms. Also there will be a bit less of a marine influence allowing warmer surface temperatures as highs rise into the upper 70s to low 80s statewide. Showers and thunderstorms will be hit or miss, but areas that see rainfall may see totals for the day upwards of a half an inch or so. Training thunderstorms may also be a threat especially in the eastern half of the state. This day will be more summerlike than the other wet day this week Tuesday which will feature fall-like stratiform rain. Thursday night will feature rain showers across the state with rainfall totals around a tenth of an inch. Lows will be in the 60s statewide.

Friday- A strong disturbance will rotate southward from the Great Lakes. Decent heating of the lower layers will cause temperatures to warm into the 80s for most locations with dewpoints rising to near 70. Showers and thunderstorms will be a common place especially during the afternoon for many areas. Isolated severe weather is possible across the entire state. Friday night will feature dying thunderstorms and rain showers likely totaling rainfall up to a tenth of an inch. Lows will generally be in the upper 50s to mid 60s statewide.

"Chesapeake Bay Marine Forecast" (Updated 7/20)
As you already noticed this is the new addition to my Summer weekly weather blog. I replaced the forest fire section due to low audience interest and low forecast activity. This Bay forecast will provide forecasts for those with interests along the water each week. Although marine conditions change within every hour; this forecast will provide a basis for conditions that can be expected this week. Below is a map posted for current wind speeds and direction for the hour. Feedback on the section good or bad is appreciated.

An onshore flow will be featured for the majority of this week across local waters. As a coastal low works up the coast with high pressure over the Great Lakes, the pressure gradient will begin to tighten over the region with winds increasing over the waters near 13-17knots causing some rougher conditions over the water with possible small craft thresholds being reached for Monday early evening through Tuesday night. Also the onshore flow coupled with the new moon Tuesday should cause astronomical high tide to be several feet above normal (1-3ft). This may cause some splashover at vunerable areas on the western shore. Coastal flood advisories may be needed according to the NWS in Sterling and Mt. Holly. As high pressure moves in later in the week with still disturbances rotating in across the region, the flow will shift from the east to the south-southwest which again will cause water to build up with higher than normal tidal levels about 1-2ft above normal. This period will be from Wednesday through Thursday. Also winds will be slightly breezy near 10-13knots in this time period. As the front remains in the vicinity through the week additional waves of precipitation and tighter pressure gradients could affect the coast through the weekend. Wave levels this week will generally be around 1ft. Thunderstorms are also a threat this week along with periods of heavier rain especially Tuesday and later this week. This may cause periods of more threatening wave and wind conditions. Overall this week does not appear the best for those attempting some leisure time on the water as general small craft advisories will be posted throughout the week.

"Current Wind Speed and Direction along Chesapeake Bay"


(Courtesy of NOAA)

"Gardening Outlook" (Updated 7/20)
Well the garden is doing wonderful with my perennials looking great as many were planted this year thanks to a new flower bed. I also added a lot of new bird feeders this Summer to replace older ones with one including a cage around it to protect it from the squirrel population and a new feeder catering to Gold Finches with the Nyjer seed. Since I live in the foothills of a mountain, I have an abundant amount of Finches now at the feeder. Gold and other Finches live in the mountains. I wish I had added this feeder earlier as it is wonderful to watch the exotic looking Gold Finches. The vegetables are doing wonderful except for a few exceptions. My celery plants are finally beginning to thicken the stalks and a few stalks may need to be picked shortly. My Swiss Chard is doing wonderful in fact it appears I planted way too many plants (6). The flavor of chard is reminiscent of Spinach. The leeks are getting larger, but still have a ways to go. My other herbs look great with the parsley though be slightly eaten by some little critter. Otherwise my oregano, basil, and chives look great. Sadly though it appears my cilantro plant is slowly dying. The Garlic is doing great and should be ready for picking come the end of August or early September. The Yellow and Red Onions also may need to be picked in a week or two, though I have been picking them throughout the entire Spring and Summer. My Summer Radishes are doing well, but I think I need to do some thinning. My cucumbers are great although I am not completely pleased with the pickling cucumber taste so I will probably go with another variety next year. The zucchini is another story; yes I am picking about one a day but it comparison to last year this year's harvest is much smaller. I think it has something to do with the cooler weather. Something though I noticed today is small red insect eggs underneath a few of the leaves. I am not sure what they are, but I squashed the ones I could find. My tomatoes are doing pretty poor in terms of ripening. I have plenty of green tomatoes of all varieties, but they are just not ripening for picking. Again this is the same case with my peppers. I have green peppers, but I only eat the red ones. The yellow wax beans will be ready for picking within the next few days and they look absolutely wonderful. A little brown butter and sugar with yellow beans is just fantastic. My beets are also growing and I have found they grow a lot slower than radishes and require more room. My melons are doing well in fact I have a large mellon now the size of those miniature footballs. Does anyone know how to tell when to pick them?

This week will feature ample rainfall opportunities and only a few waterings should be required for one's garden. Total rainfall for eastern areas this week will be around 1-2inches depending on tracks of convective rains. Central areas may be more around an inch or less and western areas should be exactly around 1inch. Temperatures will not reach over 85degrees for most areas this week. Dewpoints will not be dry at all as they total around 65 for most of this week. Overall this does not appear to be a typical Summer hot and dry week. Happy Gardening!!!

"Soil Moisture Anomalies and 5-day Precipitation Amounts from Hydro Prediction Center"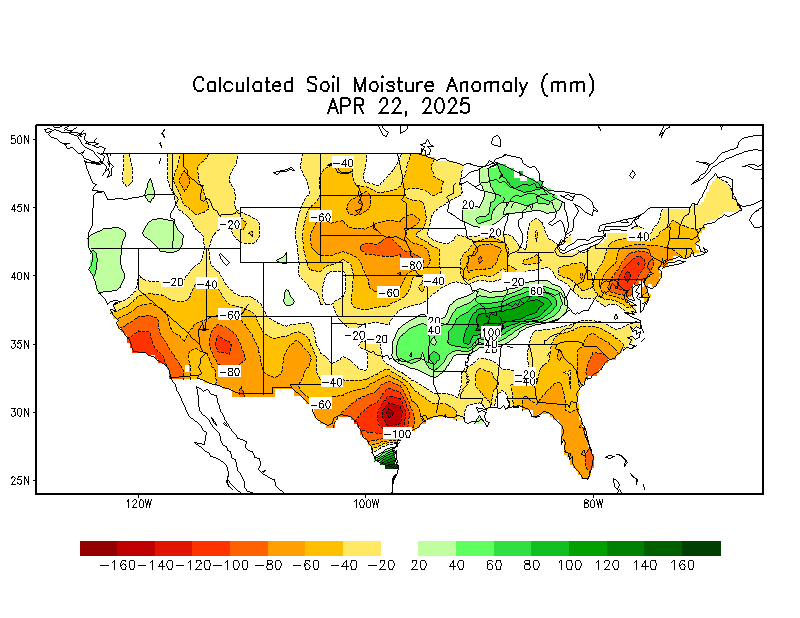 (Courtesy of NOAA)

"Severe Weather Outlook" (Updated 7/20)
This week we are under the influence of a strong southerly flow with a slight easterly component. This flow is never favorable for severe weather across the Northeast as the airmass is generally marine influenced. But gradually the flow will switch slightly more to the southwest towards the weeks end. Rising PWATs in eastern Pennsylvania and higher dewpoints in the 60s will allow for plentiful moisture this week, but with the marine influence little if any instability will be able to develop at the surface during the first half of the week. As the first wave of precipitation moves up the coast Tuesday the only chance of thunderstorms would be from elevated convection, and this will not be widespread generally confined to southern areas. Towards the end of the week the flow aloft will be from the southwest allowing slightly warmer temperatures at the surface during the day. But with weak winds aloft at least initially, I expect little if any severe weather. Freezing levels will be relatively high for a majority of the week also. But as we head into the first half of the week a slightly strong vortex of energy will rotate up the coast with slightly high winds aloft and increasing shear values. With CAPE near 1000 j/kg, isolated to scattered strong to severe thunderstorms are possible Friday afternoon. Boundary layer conditions will be beneficial to updrafts in the formation of cumulus-nimbus clouds. Overall though the week will be generally quiet in the severe weather department as generally stratiform rain and isolated elevated convection will be the general rule of thumb. But any day especially the second half of the week could feature a wet microburst severe weather report. Towards the weekend a few strong disturbances may rotate in along with the trough situated this week in the Great Lakes. Severe weather is possible, but confidence is very low at the moment.

"Severe Weather Outlooks from Storm Prediction Center Days 1, 2, and 3"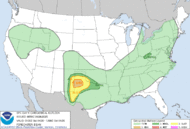 (Courtesy of NOAA)

"Tropical Update" (Updated 7/20)
Currently there is an invest in the Atlantic basin, 97L. But as has been the common theme this Hurrican Season, high shear values are located all across the path of this system especially through the next 48-72hours. Also SSTs across the basin still remain near normal, but this is below normal in comparison with the last few tropical seasons. Any development especially in the next 72hours should be minimal with lack of low level circulation and generally the system should be torn apart by shear. If perhaps any showers and thunderstorms along with low pressure center survive through the central Caribbean then perhaps this system bears further monitoring, but for now the islands should only expect a few periods of heavy rain and gusty winds near 40mph. Elsewhere in the Atlantic there really is not any feature of immediant concern and any African wave looks relatively weak at this time. There is a low pressure though forming off the coast of Georgia and South Carolina that will head along the east coast bringing heavy rain to eastern New England especially Rhode Island, Massachusetts, and Maine with QPF near 1-3inches. But this low pressure will lack any tropical features and should be purely a coastal storm. There may be some slight beach erosion in the coming days on the Outerbanks with the New Moon and easterly onshore flow. Astronomical high tide should be around 1-2ft above normal during the first half of this week. As I mentioned below in my August outlook, I do expect the tropical season to start getting slightly more active in August and that lower trough axis in the southeast may be an initiating ground towards the end of July and early August. For now though all global models do not expect any tropical formation for this coming week.

"Latest Tropical Systems including Sea Surface Temperatures"


(Courtesy of Wunderground)

"Monthly Outlook" (August)
After a below normal June and July, August may try to tap into some warmer air. In June temperatures averaged around -.5degrees across Pennsylvania despite few if any 90degree high temperature days. The warmest conditions oddly enough occured this year in April. But we are entering a slight pattern change. The trough situated over the east coast will begin to pivot westward over an extended period of time. This will keep the core of the cooler air and trough axis over the Great Lakes. But this does not mean warm air is going to be surging up the coast. Further downstream the trough over Europe will still be over eastern areas and until this trough is replaced with a ridge, the east coast of the US will continue to be lacking in above normal temperatures. With the trough axis slightly to the west of the region, this will place the Northeast is an active pattern for disturbances and rainfall. They will develop along the lower end of the trough and move northeast up the trough. Also something interesting is how this deep stubborn trough will stall in the Southeast off the coast and Gulf of Mexico. As mentioned earlier, I am still monitoring the possibility of tropical development on the axis of the lower end of the trough. For now that is just an outside chance, but still I expect the Atlantic tropical season to start getting in gear during the month of August with the Gulf of Mexico and southeast coastline at the highest threat for any landfalling system.

Temperature- Temperatures should average around normal from (-.5)-(+.5) with areas across the western half of the state slightly cooler than eastern areas. This Summer will surely be one to remember with the crystal clear blue skies and dry air, but during August I do expect humid conditions to be a common theme during a majority of the month. Temperatures should be warmer in the first half of the month as cool air reloads across the Arctic circle as the NAO surges near neutral. But during the end of the month I expect a return to near negative NAO values with below normal temperatures along with the trough axis moving back east as the EPO values surge back to negative too.

Precipitation- This month looks to be fairly wet with normal to above normal precipitation thanks to the trough axis to our west, but a flow bringing in Gulf Disturbances on up the coast. Also any tropical influences will likely make landfall and head up the east coast states causing heavier rain. The highest chance of above normal rainfall will be over southern areas thanks to high instability forming stronger thunderstorms with heavy rain. I still have the first week in August open as a period with possible severe weather being likely as disturbances rotate in from the Lakes with possible severe thunderstorm squall lines, but for now that remains about 1-2 weeks away.

"Temperature and Precipitation Outlooks from Climate Prediction Center for next 30 days"


(Courtesy of NOAA)

"Here north of Harrisburg 2009 statistics"
(Severe Weather Stats...)
Severe Thunderstorm Watches- 5
Severe Thunderstorm Warnings- 5
Tornado Watches- 0
Tornado Warnings- 0
Total Thunderstorms- 26

(Precipitation Stats...)
Flood Watches- 2
Flood Warnings- 1
Monthly Precipitation- 4.20inches
Yearly Precipitation- 22.84inches

(Temperature Stats...)
Heat Advisories- 0
Excessive Heat Warnings- 0
90degree Days- 5
Highest Temperature- 92degrees
The views of the author are his/her own and do not necessarily represent the position of The Weather Company or its parent, IBM.
Reader Comments
The Northeast Weather Blog...
Previous Entries for 2017