Weekend auroras are likely - Heads up!!
The CME launched toward Earth by yesterday's X-flare is moving faster than originally thought. Analysts at the Goddard Space Weather Lab have revised their forecast accordingly, advancing the cloud's expected arrival time to 09:17 UT (5:17 am EDT) on Saturday, July 14th. Weekend auroras are likely.


SOUTH POLE AURORAS: In a possible preview of the light show to come, bright auroras have been dancing over Earth's south pole. Robert Schwarz took this picture on July 12th from the grounds of the Amundsen-Scott South Pole Station: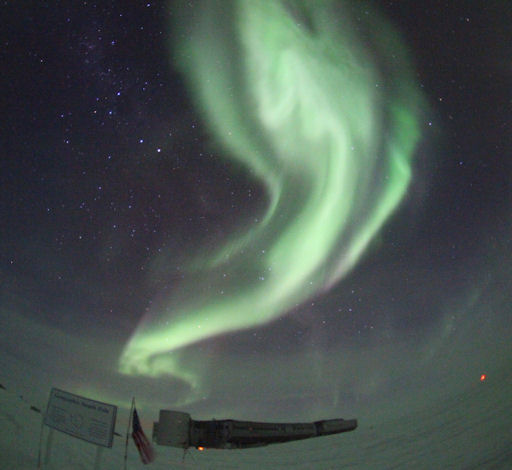 "Yesterday we had some of the best auroras I've seen," says Schwarz.

Despite its high latitude, the South Pole is not always a good place to see the lights because it is often located in the "doughnut hole" of the aurora oval. July 12th was an exception: "Look carefully at the picture and you can see the actual Pole in the foreground" Schwarz points out.

NOAA forecasters estimate a 55% chance of strong polar geeomagnetic storms on July 14th when a CME is expected to crash into Earth's magnetic field. More South Pole auroras could be in the offing.

The radiation storm, in progress, ranks "S1" on NOAA space weather scales, which means it poses no serious threat to satellites or astronauts. This could change if the storm continues to intensify. Stay tuned.


Good deal of this info was copied from http://www.spaceweather.com/
Reader Comments
New Comment
Post Your Comments
Please sign in to post comments.
Not only will you be able to leave comments on this blog, but you'll also have the ability to upload and share your photos in our
Wunder Photos
section.
About redagainPatti
| | |
| --- | --- |
| | The nick, redagain is short for the words - "Redwoods again". It stands for a goal to sleep again in a tent under the Redwood Trees in northern Ca. |
Tropical Blogs
Tropical Weather Stickers®
Local Weather
| | |
| --- | --- |
| | Muy nublado |
Previous Entries for 2014